So I just got an email from the Children's Fund (don't get huffy, I'm on the mailing list just like a million other people are), and they're finally offering
The Audrey Hepburn Treasures
for sale on their website like they did when Sean's
Elegant Spirit
came out. But unlike
Elegant
,
Treasures
is not signed, so please make note of that. It's also selling at full price ($49.95 US), so I personally think you're better off at
Amazon
. And don't worry about hurting the Children's Fund, since they published the book anyway and will get the writer's cut.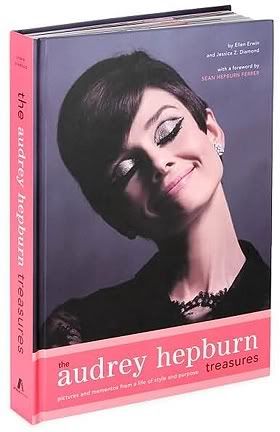 What's better than that, though, is the fact that they've finally updated the events page! Now you can see what they're doing. They kind of cheated by entering stuff from the more recent past that hadn't been up before, but
here's the link
to the events page (now with pictures!), and for the lazy amongst you, here's a list of their upcoming events:
November 4, 2006
Audrey Hepburn will receive the Lifetime Humanitarian Rose Award at a gala being held at Kensington Palace in London, England. The honor is being given by the People's Princess Charitable Foundation, a non-profit organization founded in memory or Princess Diana, whose mission it is to raise funds for charities around the world using the Princess' collection of dresses it owns and which annually recognizes, "extraordinary individuals."



November 28, 2006



The 2006 Audrey Hepburn Humanitarian Award will be presented at UNICEFS's annual Snowflake Gala in New York City. Established in 2004, past recipients include Sir Roger Moore, Pamela Fiori and special award recipients Bob Geldof, Bono and One org.



2007



Timeless Audrey Exhibit – European Tour
After an 18 month, 10 city tour of Japan, Timeless Audrey, the Audrey Hepburn Children's Fund traveling exhibit on the life and career of Audrey Hepburn, will launch its multi-city, multi-country European tour. Funds from the exhibit, created to benefit UNICEF's "All Children In School" educational initiative, help to provide 120,000,000 children with quality basic education.
No offense to the Europeans, but I'm pretty cheesed about that last entry. The exhibit was supposed to come to America this year (2006) and tour, and that would be the last stop. So you guys took our Audrey time! Completely not fair, unless I make a trip . . . well, thinking about it. Still, it was pretty mean of them to tell me about the American leg and get a lot of people's hopes up.
Also, there are a few new items in their shop for your shopping pleasure. Besides the two books they have up, there's also new UNICEF postcards, a DVD called "The Children of the Tsunami" (remember their big fundraising when the tsunami hit?), the t-shirts from before, the world music CD, and
finally
the Christmas cards with Audrey's drawings.
Moving on, I found an article that's really very funny. It talks about the upcoming dress auction, and as long as you're dreaming about buying it -- let alone wearing it! --
this article
will help you choose some jewelry to go along with the priceless dress.
Next up is an article about Audrey's new wave of popularity, and while the author seems to admit that the Gap ads were crass and a bit silly, nothing could really hurt Audrey's image and it does well to promote her to new generations. It talks about her continuing popularity and her timelessness, and can be read in full
here
.
Lastly, here's yet another article talking about the Gap commercials, but this piece morphs into a review for Spoto's book. It says Spoto's book is formulaic, but gives a mini-biography of Audrey as well as some good quotes. One that's been pointed out in the
Audrey Hepburn Circle
is, "Humanitarian means human welfare and responding to human suffering -- that's what politics should be about, ideally." You can read the full story
here
.