Got some cool news for my fellow Angelinos last night! Sorry I waited until today to post it, but my Internet's been wonky and I don't trust posting here via my phone. Anyway, beginning tonight LACMA is hosting an Audrey Hepburn marathon entitled "Audrey Hepburn: Then, Now and Forever." It will run until November 13 and features some Hepburn films rarely shown on the big screen, along with
special guest speakers
.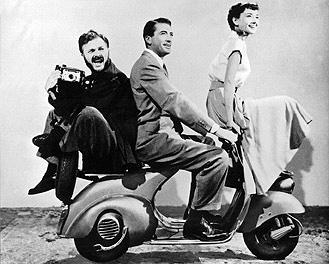 Tonight, starting at 7:30 there will be a double feature of
Roman Holiday
and
They All Laughed
with an introduction by director Peter Bogdanovich (who directed Audrey in
Laughed
). Tomorrow, Saturday, is another double feature with
Breakfast at Tiffany's
and
Two For the Road
, with an introduction by William Daniels, a co-star from
Road
. And for the record, I'm really miffed I can't make this one because
Two For the Road
is maybe my favourite Audrey film and I haven't seen it on the big screen yet.
The double feature nights continue with
Sabrina, Love in the Afternoon, Charade, Wait Until Dark, War and Peace
(wow!) and
My Fair Lady
. To see the full list of upcoming screenings, along with film and guest speaker information and screen times,
go here
.
If you can make it to any of these screenings, please go! I can't tell you how much better it is to see your favourite films on the big screen as they were meant to be seen. You pick up on so much more and having an audience reacting around you just adds a new dimension to the film.
Thanks to Kendal for sharing the info!